Tag Archives:
Miss Universe 2014 Rumors 7.5
Miss Universe 2014 Rumors 7.5: Stage Blocking Revealed
We're giving a million thumbs up to our dear friend Paola de Bracho for being a pageant expert and for sorting it all out. Here we reveal to you how stage blocking works and how it identifies the fate of a candidate.
As of this time being, our candidates are already rehearsing for the final show, which includes the swimsuit and evening gown portions. What they need to memorize is the steps for each portion. Stage blocking is later on revealed after the preliminary competition to avoid clashes, issues and gossips. So here we go:
TOP 16 BLOCKING
After the preliminary competition, the organizer, choreographer, and stage director will assign the ladies of their permanent blocking on stage for the entire final show. This is where the top 16 gets identified according to their assigned posts or blocks. The semi-finalists are spread out. The organizers will never let one side of the stage left empty after the semi finalists are called. The placers gotta be positioned on all perimeters of the stage. Now, if you're a candidate who gets to be positioned next to a lady from a powerhouse country or a candidate who is a frontrunner, then there's 90% chance that you'll clap. We're not talking about who dances in the production number here because that sin't Check the following scenes from previous shows for you to see it for yourself: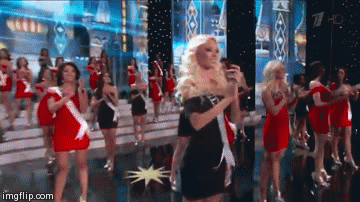 Now, if it happens that most frontrunners are on one side, and you happen to be next to them. There's also a great possibility that you'll clap…or putting it positively, you will place together with them. How do you know? Have a backtrack at your performance and evaluate yourself.
SWIMSUIT BLOCKING
In the swimsuit blocking, if you're one of the candidates in front of the stage performing the dance choreography, then you gotta be worried. You might be one of the girls who will possibly clap. Here's what happens:
Candidates who dance well (which probably are clappers..well, most) are given the task to dance in front before the semifinalists come out. About 10-12 candidates will perform in front. But there's always someone from that group of candidates who will place, but most of them will clap. Blockings are final and the candidates in front have different dance steps than those who are at the back. BUT, organizers will teach other ladies to master the front act for replacements (if any from the 10-12 ladies places). And this has to be like that so they won't give any single hint on who makes the cut and who doesn't. This is also the time for other frontrunners to realize that they might clap. Remember, if those who are positioned in front will place, then who will do the steps in the finals? Hmmm…it'll be empty. Look at this gif, then you'll see who's in there: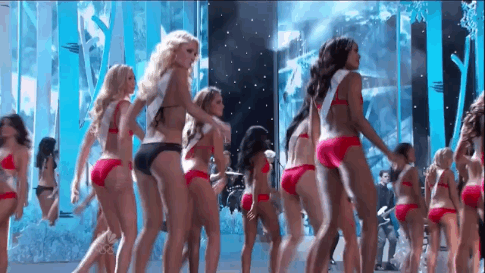 So to all the candidates out there! Since you guys are now rehearsing. Always be at your best and do everything in your power to be in the right blocking. Best of luck and break a leg!